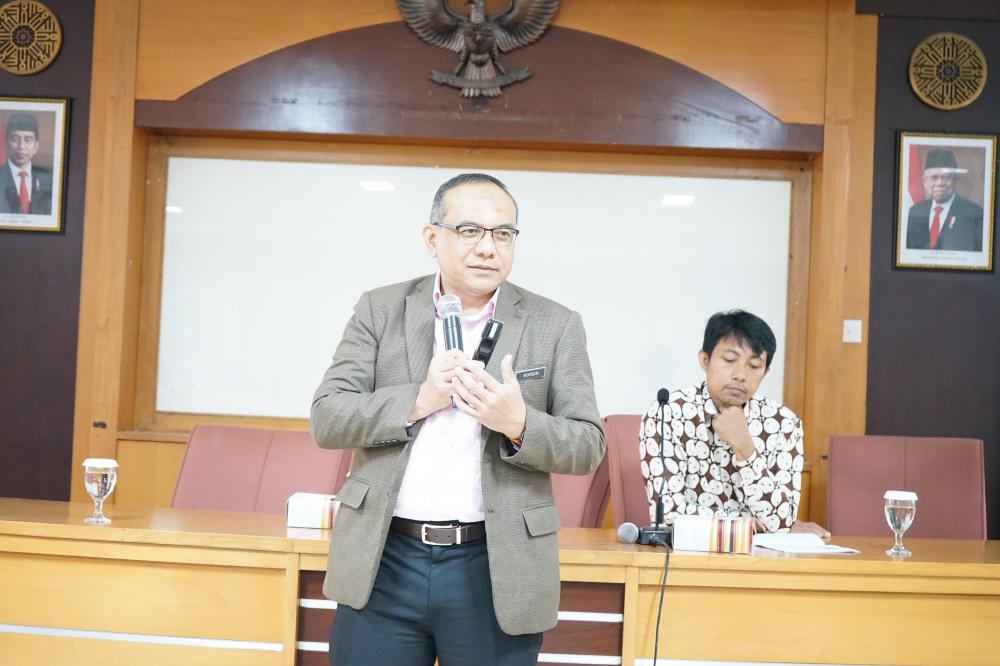 Prof. Nordin Bin Yahaya when explained the workshop material
To improve quality as a World Class University (WCU), UIN Sunan Kalijaga held a Workshop on Internationalization of Higher Education in Indonesia, Thursday (12/12/19). The agenda took place in Prof. KH. Saifuddin Zuhri building was attended by 30 participants consisting of Deans, Deputy Deans, Head of Study Programs, and International Office representatives from several universities, such as IAIN Pekalongan, IAIN Kendari, UIN Maulana Malik Ibrahim Malang, UIN Alauddin Makassar, IAIN Tulungagung, IAIN Surakarta, UIN Raden Fatah Palembang, Yogyakarta Atmajaya University, Duta Wacana Christian University, Indonesian Islamic University, Ahmad Dahlan University, and Yogyakarta Muhammadiyah University.
Deputy Rector II for General Administration, Planning and Finance, Dr. Phil Sahiron, M.A. conveyed the purpose of the workshop as a form of strengthening the World Class University at UIN Sunan Kalijaga which was still not optimal. "Since 2016 UIN Sunan Kalijaga has begun to go to World Class University, but in its journey, many things need to be improved. Therefore, we hold this workshop". He explained when opening the workshop.
Mr. Sahiron continued that the Internationalization Workshop also involved other PTKIN and international office partners in Yogyakarta so that in advancing international-class tertiary institutions it could be done together. "To organize this workshop, we also invited several other tertiary institutions to work together in developing the internationalization of higher education in the future".
Chair of the International Office, Achmad Uzair, Ph.D. also added that UIN Sunan Kalijaga is starting an internationalization program. It is hoped that the workshop will be able to add insight into international-class tertiary institutions. In those activities, participants can also gain knowledge from experts who have experience managing internationalization of tertiary institutions.
The workshop agenda presented speakers, namely Prof. Dr. Nordin Bin Yahaya (Director of the Higher Education Leadership Academy (AKEPT) Ministry of Education Malaysia, Cokorda Rai Adhi Pramartha, Ph.D. (Udayana University International Office), Ratna Rintaningrum, SS, M.Ed, Ph.D. (Head of Centre for Languages and Cultures ITS), and Dr. Arif Maftuhin, MA (Head of the Diffable Services Center of UIN Sunan Kalijaga).
The workshop activities are divided into four sessions. In the first session, Prof. Nordin Bin Yahaya who had served as Chair of the International Office of the University of Technology Malaysia (UTM) delivered material on the Challenges and Strategies of Internationalization: The Experience of Malaysia and UTM. In his presentation, he said that the internationalization of higher education had a major impact on climate change on campus, especially in increasing the visibility of universities, and the most important is the quality of students. The main priority of internationalization is the benefits that can be felt by students.
The second session presenters, Cokorda Rai Adhi Pramartha, Ph.D., delivered the theme Short / Summer Course: Alternative Strategies to Increase the Number of Foreign Students. The third session of the speaker was delivered by Ratna Rintaningrum, S.S, M.Ed, Ph.D. The theme presented was the Development and Management of the Indonesian Language Program for Foreign Speakers (BIPA). While the fourth session, as well as being the last speaker, Dr. Arif Maftuhin, M.A delivered material related to Student Volunteers and Quality Improvement of University Services. (Nurul / Hendris)