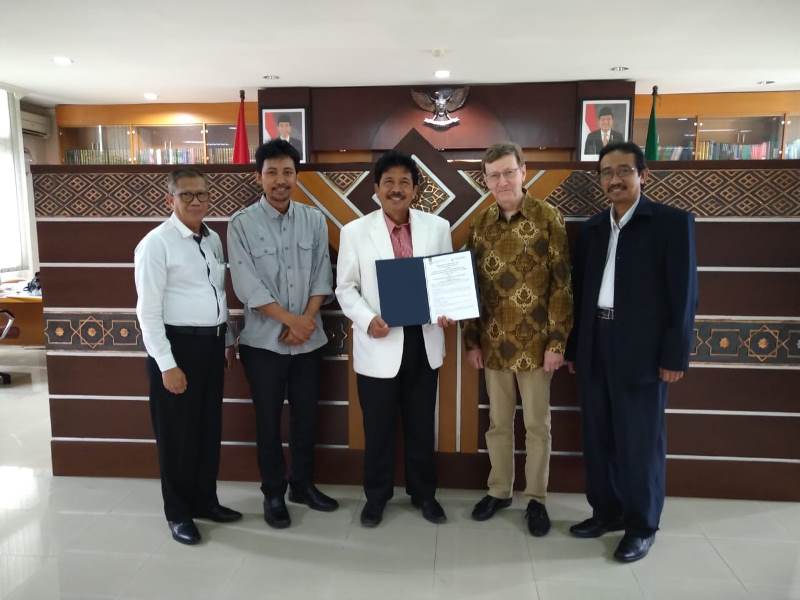 The delegation from Georg-August Gives Memorandum of understanding to Rector UIN Sunan Kalijaga
Yogyakarta, Tuesday (02/20/2019). Center for Development and Cooperation International Affairs (CDCIA) UIN Sunan Kalijaga and Georg-August Universitat Gottingen Germany representative, Prof. Dr. Fritz Schulze, held a meeting with the Rector of UIN Sunan Kalijaga, Prof. KH. Yudian Wahyudi, M.A., Ph.D. The one-hour meeting was welcomed by the Rector and all the leaders of the academic community of UIN Sunan Kalijaga.
The meeting also attended by Drs. H. Hardarlin H. Umar (Head of the AUK Bureau), Achmad Uzair, M.A., Ph.D. (Head of International Office), Eka Sulistyowati, S.Si., M.A (Secretary of the International Office), and Dr. Mochamad Sodik, M.Sc (Dean of the Faculty of Social Sciences and Humanities).
The meeting discussed the follow-up of cooperation in the academic field, student exchanges, teaching staff, and postdoctoral. In addition to discussing the matter of cooperation, there was also the submission of a Memorandum of Understanding (MoU) by Prof. Dr. Fritz Schulze to the Rector of UIN Sunan Kalijaga Prof. KH. Yudian Wahyudi, M.A., Ph.D. The moment was captured with a group photo