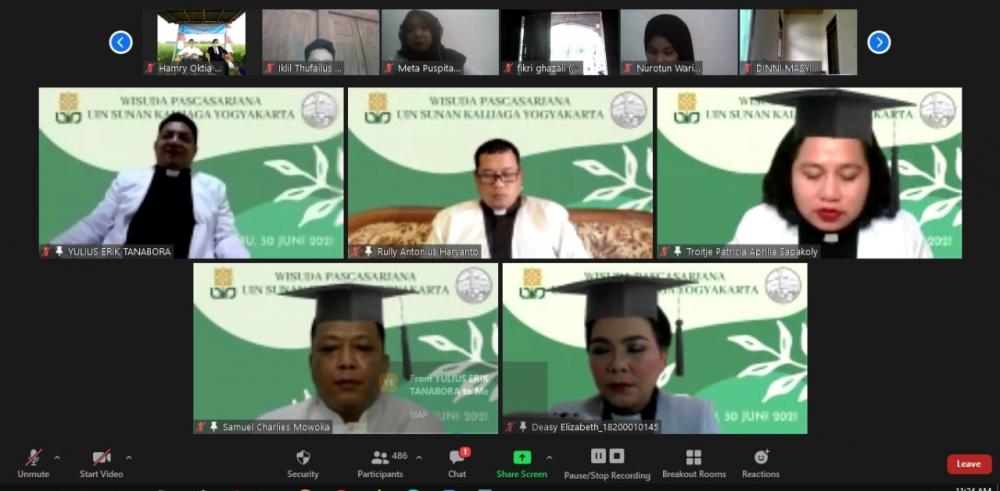 The Pastors were following their Graduation via Zoom
There is something unique in the third period of graduations at UIN Sunan Kalijaga Yogyakarta, the 2020/2021 academic year this time. The Western Indonesian Protestant Church Council (GPIB) appointed 15 Pastors to make Indonesia better by fabricating interfaith networks/studying at UIN Sunan Kalijaga Yogyakarta. Ten of them graduated after completing their Master's degree. One of the graduates is Pastor Boydo Rajif Evan Duvano. He admitted that he never thought of further study at UIN Suka to pursue Islamic Studies under the concentration of Islam Nusantara.
There have been too many negative prejudices against the existence of other religious teachings. The Church tasked Pastor Boydo Rajif to study Islam directly from Muslims. He said that the Indonesian people are one family, brothers and sisters who live in the same country. So we need to learn to coexist and know each other thoroughly. In general, Indonesian people are naturally used to interfaith relationships. It seems that it is the religious leaders who have to learn a lot about other religions. Religious leaders are often the ones who make things cloudy. Either when leading, narrate different beliefs, or engage their Jemaah. Therefore, it is necessary to learn and explore the values ​​of other religions.
He felt that the learning environment is conducive, study rooms are very spacious, calming, and neat. The Lecturers and Staff are friendly and helpful.
Pastor Boydo said, "during learning about Islam Nusantara, I came to understand that the dynamics of Islam with local culture are extraordinary. Tend to be effective, Indonesian people can accept Islam anywhere in the archipelago. It turns out that if a religion desires to give good influence. It should embrace local culture, not destroy it. So we all should learn from Islam which embraces culture and transforms it into a better version. At UIN Sunan Kalijaga, we also discovered that Islam Nusantara had many challenges, including the teachings of radicalism. It destroys harmony and peace both within Islam and across religions. Besides, Christians should also grasp the potential for radicalism and intolerance among Christians or other believers. The mixture of intolerant ideas and radicalism is dangerous." he added.